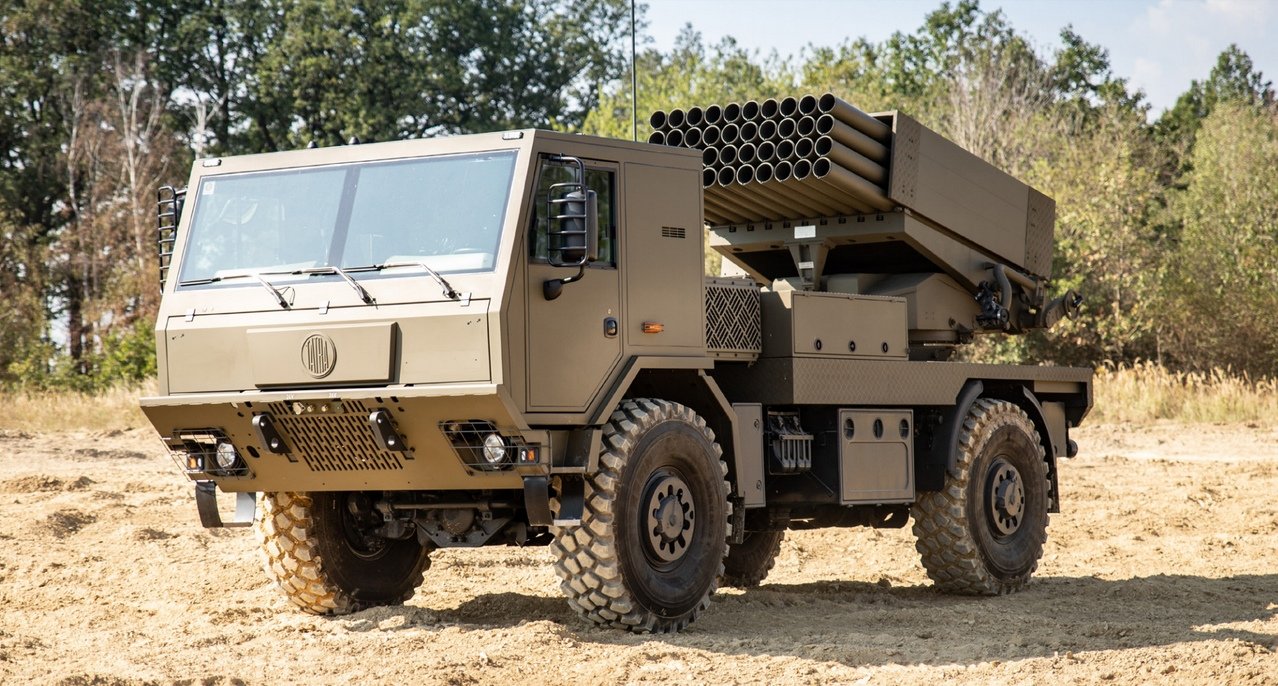 Range up to 40 km
Fire control system with IMU
Short preparatory time

Cost effective
Extensive area of effect
TATRA chassis
UPGRADE GOALS
The main goal of the upgrade was to streamline the firing, improve accuracy, shorten the preparatory time and leaving the firing position. The main emphasis was laid to automate and simplify operations related to the launch and control of firing, resulting in a fully autonomous system capable of immediate reaction.
TATRA MILITARY CHASSIS
The carrier vehicle is the newest generation of TATRA military vehicles with the exceptional terrain handling and reliability.
FIREPOWER & FIRE CONTROL SYSTEM
Extensive area impacted by a volley of rockets. Area of effect is 3,000 m2 for single round and up to 30,000 m2 for volley of 40 rockets. Fire control system (FCS) with ballistic computer is optionally completed with inertial navigation and advanced command & communication equipment.
EQUIPMENT
Fitted with the latest electronic components, optional NBC filtration system, optional independent AC unit & heating and optional auxiliary power unit (APHU).

The BM-21 MT is an upgrade project of the original 122 mm BM-21 GRAD rocket launcher. Designed for the carpet destruction of the enemy's position, resources, military equipment and human forces within a distance from 2,000 m to 20,000 m. The BM-21 MT is a forty-tube, multi-launch, self-propelled rocket artillery system. BM-21 MT is firing unitary 122 mm JROF high-explosive fragmentation rocket projectiles at large area targets. The rocket launcher can fire both single rounds and volleys from the cabin or using a portable device from a nearby trench (max. distance 60 m). The basic type of the fire is indirect fire. Direct fire with elevation from 0° to 10° can be done within the range determined by elevation and traverse sensors. The original URAL-375D chassis was replaced with the T-815 chassis with air axle suspension.
PARAMETERS

Weight
16.7 t
Chassis
TATRA FORCE T 815-7 4x4
Crew
3

DIMENSIONS

Length
7,370 mm
Width
2,550 mm
Heigth
2,730 mm

ENGINE

Engine
Tatra T3C-928.81 V8 EURO 3
Output
270 kW

MOBILITY

Top speed (off road)
90 km/h (30 km/h)
Cruising range
1200 km
Fording depth
1.2 m (instant)
Gradient
45°
Side slope
20°
Vertical obstacle
0.6 m
Trench crossing
0.9 m

ARMAMENT

122 mm JROF rockets
40
Mass of JROF rocket
66.35 kg
Maximum range
20.4 km / 40.1 km
Area of effect (single rocket)
up to 3,000 m2
Area of effect (volley of 40 rockets)
up to 30,000 m2
Time to fire (40 rockets)
2 sec – 30 sec