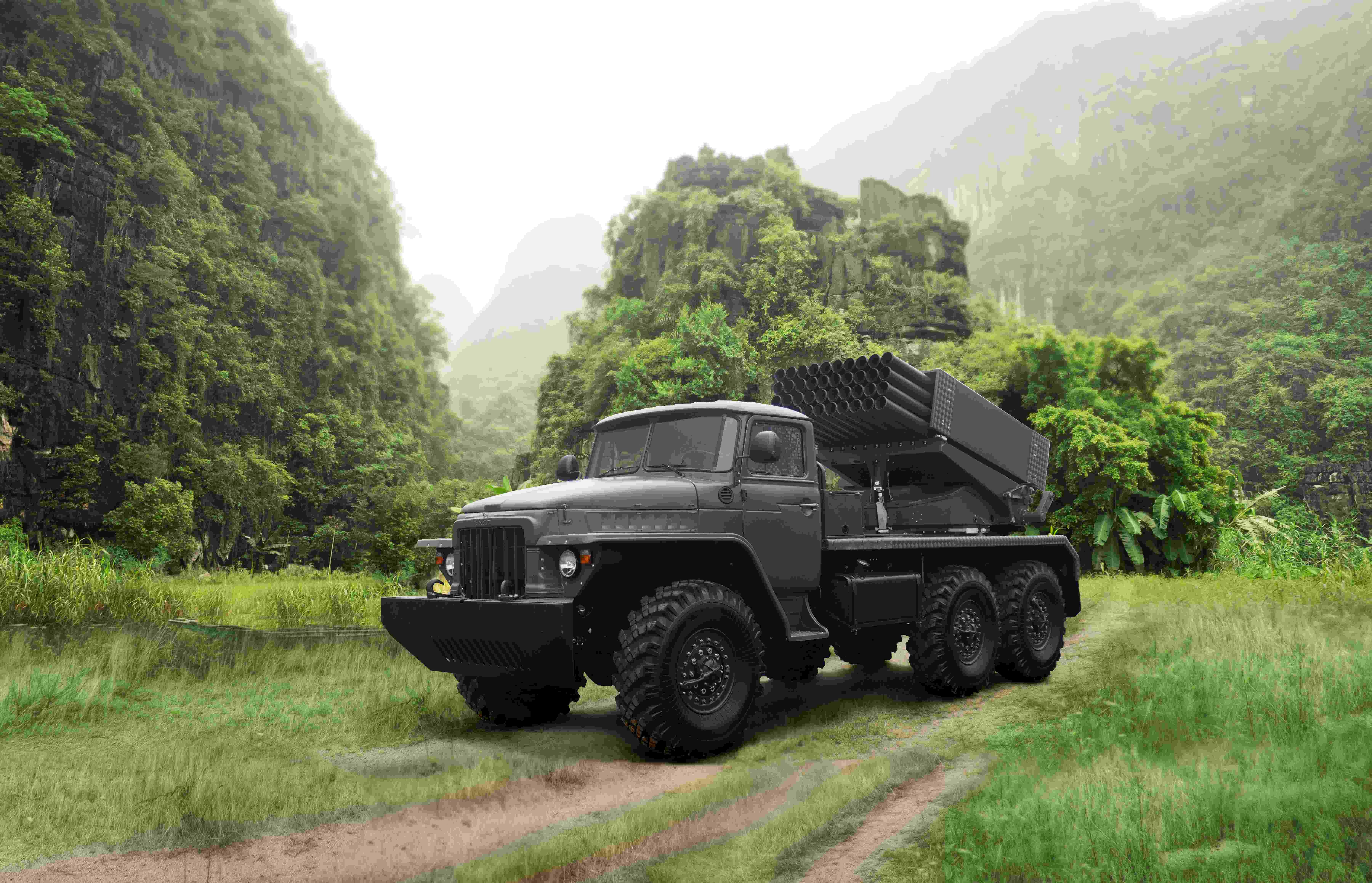 Range up to 40 km
Fire control system with IMU
Short preparatory time

Cost effective
Extensive area of effect
Modernized chassis
FULFILLING NATO STANAG REQUIREMENTS
The life cycle of the equipment is at the same level as in the original BM-21. All electronic parts has resistance -20°C to +55°C and humidity 95%.
ORIGINAL BM-21 DIFFERENCES
Old system allowed firing only from prepared combat position. Procedure of preparing that position, reaching it, getting into fire direction and leaving combat position was quite timeconsuming. Goal of a new system is fully automatic mode of aiming and firing, which reduce time needed for assuming combat position and increase fire effectivity and accuracy in the target area.
FIREPOWER & FIRE CONTROL SYSTEM
Extensive area impacted by a volley of rockets. Area of effect is 3,000 m2 for single round and up to 30,000 m2 for volley of 40 rockets. Fire control system (FCS) with ballistic computer is optionally completed with inertial navigation and advanced command & communication equipment.
EQUIPMENT
Fitted with the latest electronic components, optional NBC filtration system, optional independent AC unit & heating and optional auxiliary power unit (APHU).
The BM-21 MU is a mobile platform for the 40-round high explosive fragmentation artillery system providing concentrated fire support to the troops over large target areas covering ranges depending on the type of used shell. It is an upgraded variant of the Russian BM-21 Multiple Rocket Launcher. The rocket launcher can fire both single rounds and volleys from the cab or via remote control device from a nearby trench. Modernization preserves tactical and technical features of BM-21 chassis. The principal mode of fire is indirect fire, direct fire can be performed only within the range determined by traverse and elevation sensors.
PARAMETERS

Weight
13.7 t
Chassis
URAL-375D 6x6
Crew
3

DIMENSIONS

Length
7,350 mm
Width
2,490 mm / 2,690 mm (w/ mirrors)
Heigth
3,090 mm

ENGINE

Engine
ZIL 375 V8 (gasoline)
Output
134.2 kW

MOBILITY

Top speed (off road)
75 km/h (25 km/h)
Cruising range
min. 600 km
Fording depth
1.2 m
Gradient
40 °
Side slope
18 °
Vertical obstacle
0.5 m
Trench crossing
0.6 m

ARMAMENT

122 mm JROF rockets
40
Mass of JROF rocket
66.35 kg
Maximum range
20.4 km / 40.1 km
Area of effect (single rocket)
up to 3,000 m2
Area of effect (volley of 40 rockets)
up to 30,000 m2
Time to fire (40 rockets)
2 sec – 30 sec