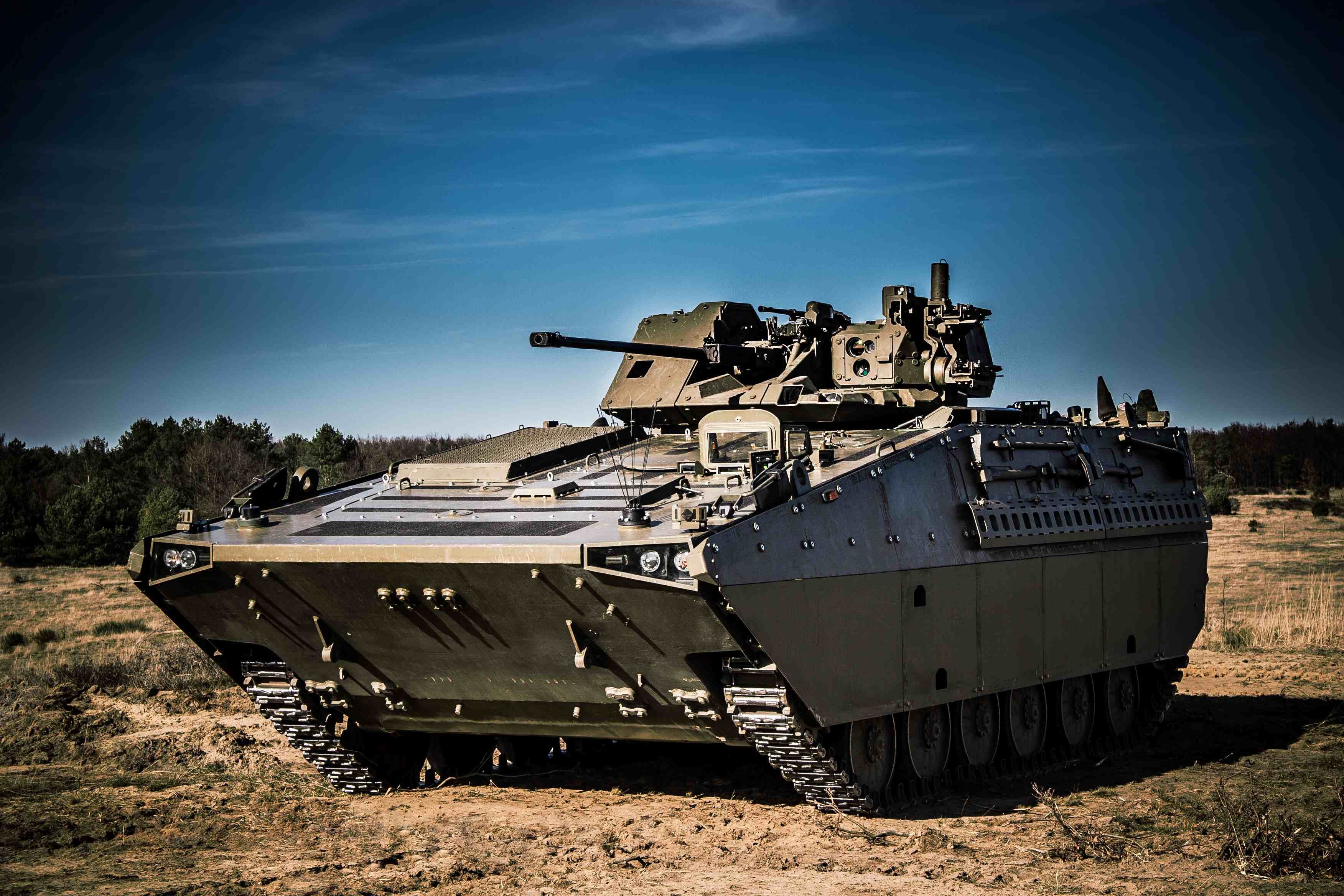 Infantry Fighting Vehicle
Infantry Carrier Vehicle
Reconnaissance Vehicle
Engineering Vehicle
Medical Vehicle

Recovery Vehicle
Workshop Vehicle
Communication Vehicle
Command Vehicle
INCREASED PROTECTION
Ballistic protection according to STANAG 4569 Level 3.
EASIER HANDLING
Automatic transmission - decreases driver's workload, ensures easier vehicle handling.
ENLARGED INTERIOR
Bigger compartment and improved interior arrangement, new anti-mine seats, advanced ergonomics (new controls for driver, commander and operator).
OPEN ARCHITECTURE
Enabled versatility to installation of weapon systems, passive and active protection, communication systems and other military technology.
HYDRAULIC RAMP
Removes the disadvantage of the original solution and allows an easy entry of the troops.
The SAKAL infantry fighting vehicle is based on proven BMP-2 platform. It has been designed to transport infantry troops to the battlefield, provide direct fire support and for engagement with enemy armoured vehicles. Featuring increased level of ballistic protection, easy maneuverability and possibility to fit wide range of special systems the SAKAL has been pre-determined for deployment at asymetric missions. The platform can be fitted with many different types of mission kits - Infantry Fighting Vehicle, Infantry Carrier Vehicle, Reconnaissance Vehicle, Engineering Vehicle, Medical Vehicle, Recovery Vehicle, Workshop Vehicle, Communication Vehicle or Command Vehicle.
PARAMETERS

Weight
18.8 t
Crew
3+6

DIMENSIONS

Length
6,753 mm
Width
3,047 mm
Height
2,760 mm

ENGINE

Type
Caterpillar C9.3
Output
300 kW

MOBILITY

Top speed (on road)
65 km/h
Top speed (off road)
45 km/h
Cruising range
400 km
Fording depth (instant)
1.3 m
Gradient
35°
Side slope
30°
Vertical obstacle
0.7 m
Trench crossing
2.5 m

PROTECTION

Ballistic protection
STANAG 4569 up to Level 3
Anti mine protection
STANAG 4569 Level 2a

ARMAMENT

RCWS
TURRA 30 turret (optionally SAMSON MK II)
Optional manned turret
DVK 30
Automatic cannon
30 mm Shipunov 2A42 / Mk44 Bushmaster II
Coaxial machine gun
7.62 mm PKT / FNH M240