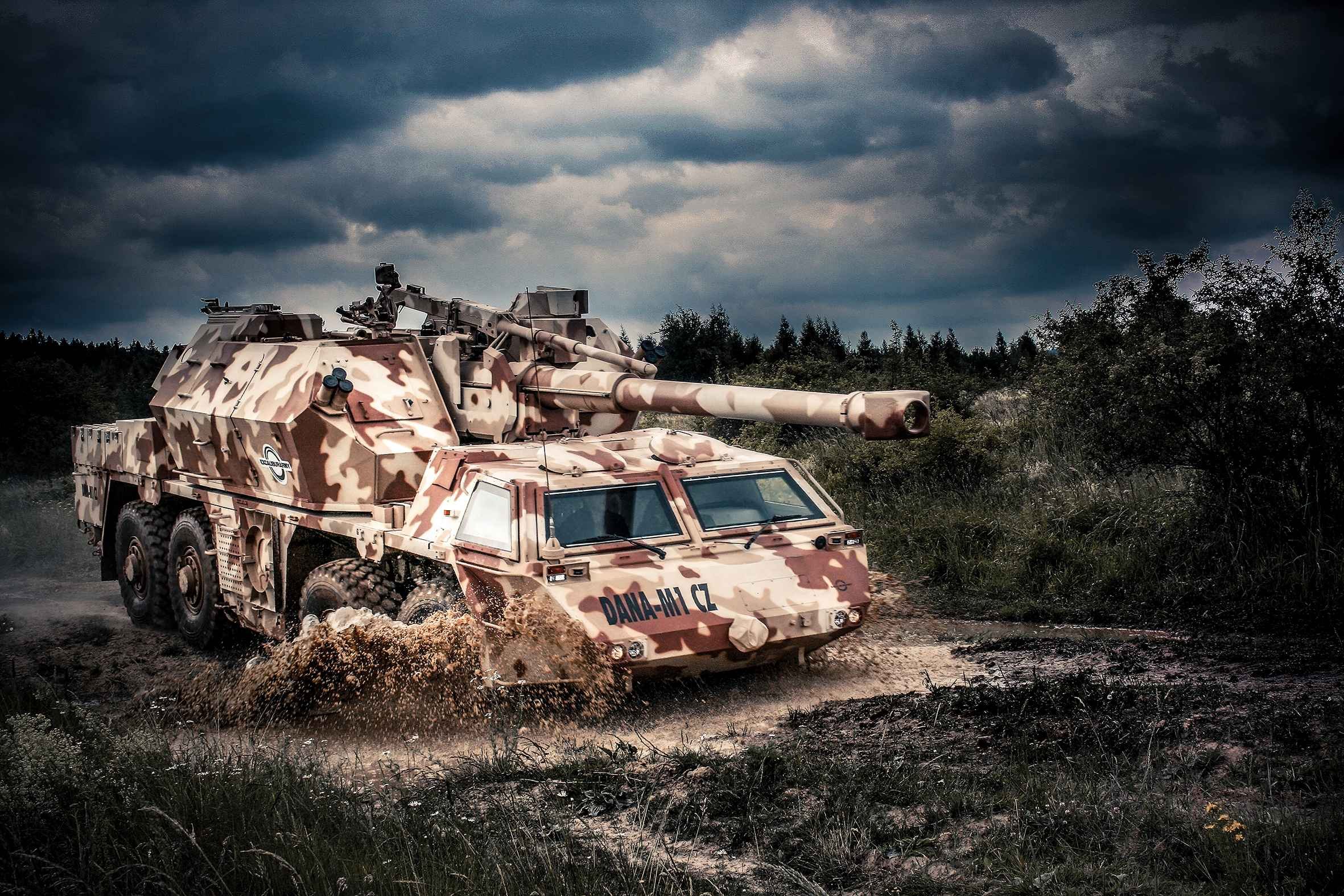 Automatic reloading
New ballistic cabin
Fire control system with IMU

Improved ready-to-fire time
Modernized TATRA chassis
Outstanding terrain mobility
MODERNIZATION IMPROVEMENTS
New fire control system, new ballistic cabin, improved chassis, semi-automatic transmission, ZF steering amplifier, modernized controls of electro-hydraulic weapon system, new pivot cables enabling transmission of data and video signals, increased hydraulic circuit flow, modernized controls of supports shortening emergency time of the weapon, increased performance of heating and air conditioning.
TATRA MILITARY CHASSIS
Great negotiation of rough terrain - typical advantage of the unique TATRA concept.
AUTOMATIC RELOADING
Primary reloading system is fully automatic. DANA's unique feature is that its autoloader is able to load a shell and a cartridge in any elevation of the barrel.
BALLISTIC PROTECTION
The DANA's crew is fully protected against firing of small arms and shell splinters.
FIREPOWER
Proven military system. Long range, outstanding accuracy and firing rate. Large number of carried ammo.

The DANA M1 is the next step in the modernization of the self-propelled howitzer 152 mm VZ. 77 DANA. The implemented upgrade items keep the well established combat & service features of the DANA system unchanged and at the same time transform the weapon into an up-to-date and more powerful system. DANA M1 is characterized by high speed and shooting accuracy, excellent clearness, good manoeuvrability and long-term proven reliability of the operation. These properties predetermine it, as well as its predecessors to continue to play an important role in the modern period of artillery support.
PARAMETERS

Weight
27.3 t (30.2 t with 60 shells)
Chassis
Tatra T815-VP-31M 8x8
Crew
1 + 4

DIMENSIONS

Length
11,156 mm
Width
3,000 mm
Heigth
3,350 mm (3,530 mm with NSVT)

ENGINE

Engine
Tatra T3-930-52M V12
Output
265 kW

MOBILITY

Top speed (off road)
80 km/h (35 km/h)
Cruising range
600 km (50% on fields)
Fording depth
1.4 m (instant)
Gradient
30°
Side slope
15°
Vertical obstacle
0.6 m
Trench crossing
2.0 m

ARMAMENT

Main gun
152.4 mm howitzer
Firing range (DN1CZ HE ER BB)
20 km (25.5 km)
Elevation
-4° / 70°
Traverse
±225° (±45° with full range elevation)
Rate of fire (1st minute)
5 / minute
Rate of fire (sustained)
4 / minute
Carried ammunition
40 (60)
Secondary weapon (AA)
12.7 mm NSVT