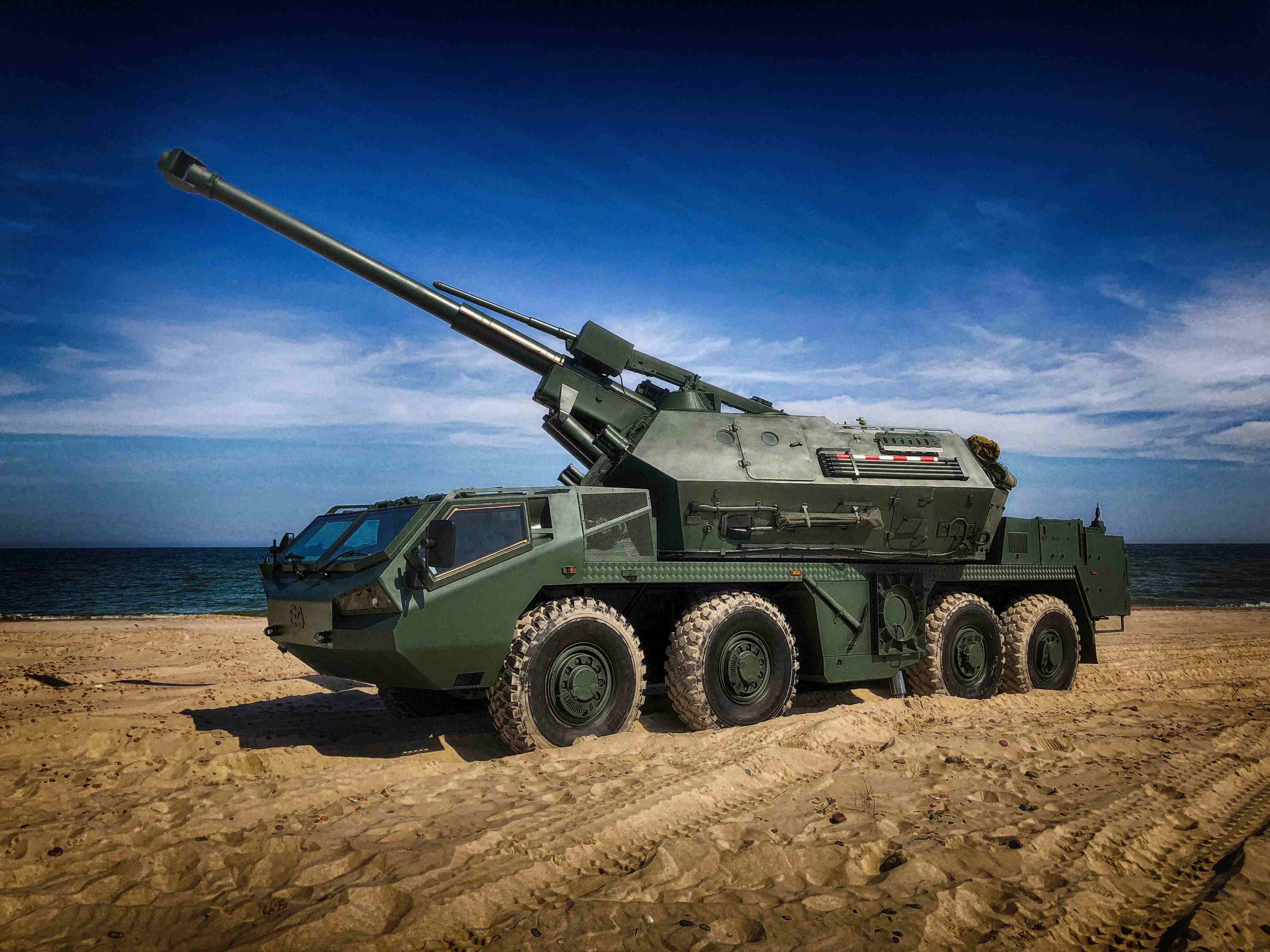 Automatic reloading
Automatic aiming system
Ammunition selection subsystem

Fire control system with IMU
Modernized TATRA chassis
Outstanding terrain mobility
BALLISTIC PROTECTION
Cabin is protected according to STANAG 4569 Level I.
CONTROLS & EQUIPMENT
Vehicle is equipped with new ergonomically distributed driver's and commander's controls (vehicle controls, C2I systems, FCS, FVS and CTIS) and integrated dignostic system with automatic record of operating units. High performance heating, A/C and NBC filtration system is installed. Auxiliary 24 V source with a hydraulic pump (APHU) allows emergency control of gun in case of accidental engine stop.
AUTOMATIC GUN AIMING
DANA M2 howitzer is equipped with a special A.S.A.P. system (Automatic Setting of Action Position) and with an ammunition control system which greatly enhance the speed of task execution and overall effectivity of the weapon.
IMPROVED UNDERCARRIAGE
Improved engine, new clutch, semi-automatic TATRA NORGREN transmission, new steering with servo, diagnostics and other improvements. Activation and retraction of support pads is 65% faster.

The 152 mm VZ. 77 DANA self-propelled gun howitzer has gone through a major modernization presenting the most recent DANA M2 system featuring high speed in taking up and leaving the firing position, greater accuracy and excellent hard terrain crossability. The DANA M2 howitzer is equipped with a powerful onboard control system which contains subsystems of diagnostics, navigation, automatic gun aiming, autonomous calculation of shooting elements and ammunition selection subsystem. Thanks to the new more resistant cabin and the NBC filtration system the DANA M2 provides the crew with the highest level of comfort and protection. The newly implemented automatic guiding system allows fast and fully-automatic weapon adjustment into fire position.
PARAMETERS

Weight
30.2 t
Chassis
Tatra 815 VP 31M 8x8
Crew
1 + 4

DIMENSIONS

Length
11,456 mm
Width
3,000 mm
Heigth
3,350 mm

ENGINE

Engine
Tatra T3-930-52M V12
Output
265 kW

MOBILITY

Top speed (off road)
90 km/h (25 km/h)
Cruising range
600 km (50% on fields)
Fording depth
1.4 m (instant)
Gradient
30°
Side slope
15°
Vertical obstacle
0.6 m
Trench crossing
2.0 m

ARMAMENT

Main gun
152.4 mm howitzer
Firing range (DN1CZ HE ER BB)
20 km (25.5 km)
Elevation
-4° / 70°
Traverse
±225° (±45° with full range elevation)
Rate of fire (1st minute)
5 / minute
Rate of fire (sustained)
4 / minute
Carried ammunition
40 (60)
Secondary weapon (AA)
12.7 mm NSVT