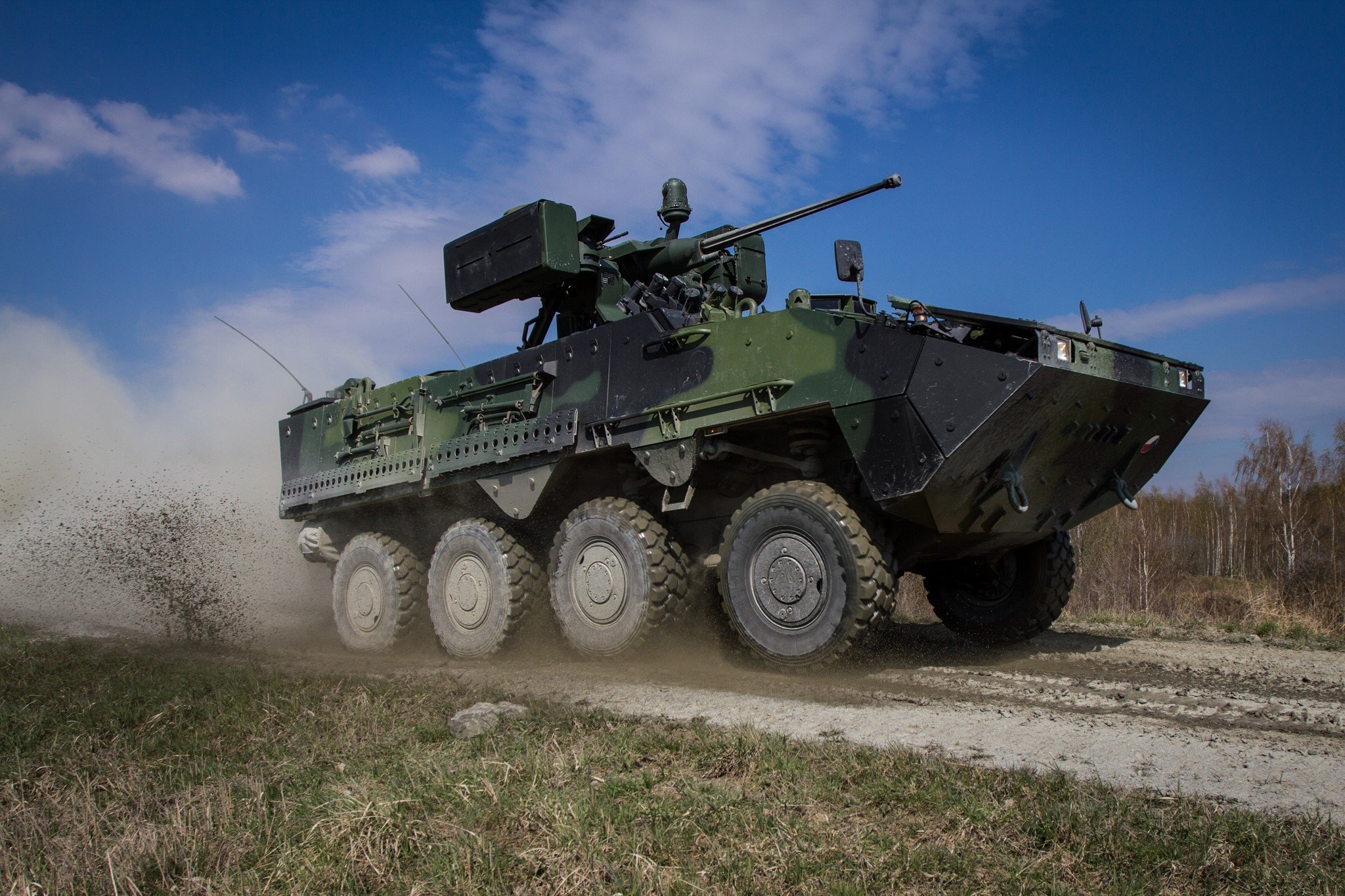 Infantry Carrier Vehicle
Infantry Fighting Vehicle
105 mm Mobile Gun System
Mortar Carrier
Communication Vehicle

Mobile Command Post
Reconnaissance Vehicle
Engineering Vehicle
Ambulance Vehicle
CREW SAFETY & COMFORT
Air-conditioning, anti-mine seats, hydraulic ramp, independent wheel suspension. Optimized STANAG 4569 and NBC protection.
DESIGNED FOR OFF ROAD
High off-road mobility capabilities, heavy duty chassis, break steering, CTIS and ADM for perfect power delivery and great swimming abilities.
UPGRADES AVAILABILITY
A range of upgrades for easier maneuverability (e.g. automatic transmission), firepower and protection.
EFFICIENT MOBILITY
Low fuel consumption extends the cruising range for easier long distance deployment.
REMOTE CONTROLLED WEAPON STATION (RCWS)
The PANDUR II accomodates various types of RCWS with integrated 30 mm automatic cannon, 7.62 mm or 12.7 mm machine gun, integrated automatic grenade launcher (AGL) or integrated ATGM system. This configuration represents highly effective way of elimination of armoured vehicles or low-flying objects.
The PANDUR II vehicle was developed upon the Czech Army request. The platform has already been well-proven in the armed forces worldwide. The amphibious wheeled platform with waterproof body is capable of effective water crossing. The PANDUR II vehicle has proven itself with superior off-road mobility, maneuverability and high reliability and resistance. In addition to the basic APC function, the PANDUR II can be modified and fitted with various types of weapon stations from 7.62 mm up to 105 mm caliber. Vehicle is also available as a mortar carrier, command & communication vehicle or ambulance vehicle.
PARAMETERS
Weight
18,7 - 24 t
Chassis
independet axles
Crew
2+12 ICV / 4+7 IFV
DIMENSIONS
Length
7,384 mm
Width
2,670 mm
Height
3,987 mm
ENGINE
Engine
Cummins ISLe T450 HPCR
Output
336 kW (450 HP)
MOBILITY
Top speed
105 km/h
Cruising range
700 km
Fording depth
1.5 m
Swimming speed
10 km/h
Gradient
35°
Side slope
30°
Vertical obstacle
0.6 m
Trench crossing
2.2 m
PROTECTION
Ballistic protection
STANAG 4569 Level 2 up to 4
Anti mine protection
STANAG 4569 Level 2a/2b up to 3a
ARMAMENT
Primary armament
30 mm, 20 mm, 105 mm
Machine guns
FNH M240, M2 Browning, PKT, NSVT
Anti-tank guided missile (ATGM)
Spike, Konkurs
Automatic grenade launcher (AGL)
30 mm / 40 mm