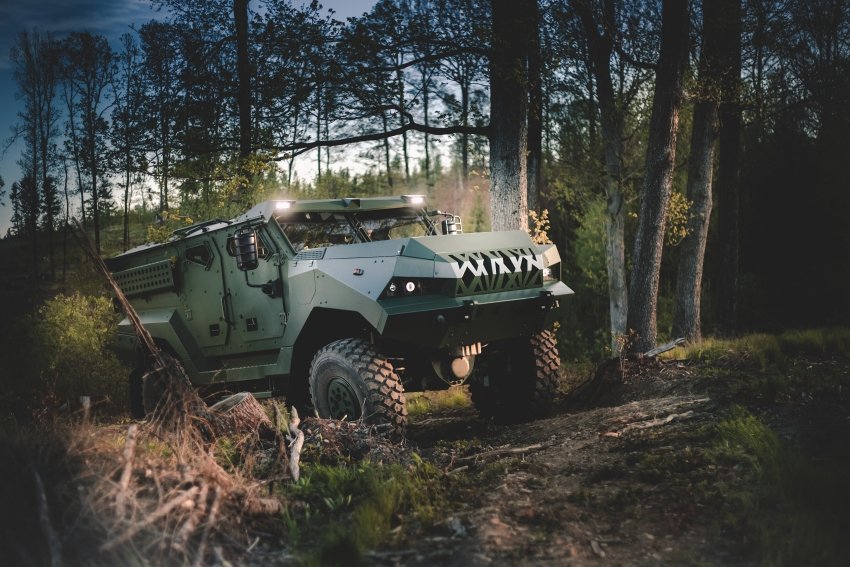 Armored Personnel Carrier

Remote Controlled Weapon Station

EOD Vehicle

Anti-riot Vehicle

Heavy Cargo Vehicle

Reconnaissance Vehicle

Special Operations Vehicle

Command & Communication Vehicle

Lead Convoy Vehicle
MINE RESISTANT AMBUSH PROTECTED (MRAP)
This vehicle features a V shaped design and provides crew mine protection as per STANAG 4569.
TATRA MILITARY CHASSIS
The unique TATRA suspension solution provides unsurpassed driving performance, an independent air suspension system ensures comfortable and quick transportation of personnel in difficult terrain and also provides high protection and reliability of the main components and assemblies of the machine.
SAFETY & ENDURANCE
Fire-extinguishing system for the cabin and engine, anti-mine seats, counter IED jammers and a long range of 700 km.
REMOTE CONTROLLED WEAPON STATION (RCWS)
The TITUS accomodates RCWS with an integrated 20 mm or 30 mm automatic cannon, 7.62 mm or 12.7 mm machine gun, integrated automatic grenade launcher (AGL) or integrated ATGM system. This configuration represents highly effective way of elimination of armoured vehicles or low-flying objects.
The PATRIOT II is an upgraded modular wheeled combat tactical vehicle that features excellent mobility in difficult terrain thanks to the unique TATRA chassis. It offers wide range of mission kits and armament choices - remote or manually controlled machine guns, automatic cannon with superior firepower, grenade launchers and ATGMs. The vehicle provides a unified platform for defence and civil safety applicationssuch as troops transport, reconnaissance, special operations, communications, command and control, chemical warfare, medevac, EOD, PSYOPS and riot control.
PARAMETERS
Weight
13,500 – 17,500 kg
Chassis
TATRA FORCE T 815-7 4x4
Crew
2+4 / 2+6
DIMENSIONS
Length
6,250 mm
Width
2,550 mm
Height
2,800 mm
ENGINE
Engine (option A)
Cummins ISL EURO 3
Engine (option B)
Tatra T3C-928-90 EURO 3
Output
270 kW / 300 kW
MOBILITY
Top speed
110 km/h
Cruising range
700 km
Fording depth
1.2 m (without preparation)
Gradient
45°
Side slope
32°
Vertical obstacle
0.5 m
Trench crossing
0.9 m
PROTECTION
Ballistic protection
STANAG 4569 Level 2 up to 4
Anti mine protection
STANAG 4569 Level 2 up to 3a/3b
ARMAMENT
Automatic cannon
20 mm / 30 mm
Machine gun
7.62 mm / 12.7 mm
Anti-tank guided missile (ATGM)
optionally
Automatic grenade launcher (AGL)
30 mm / 40 mm