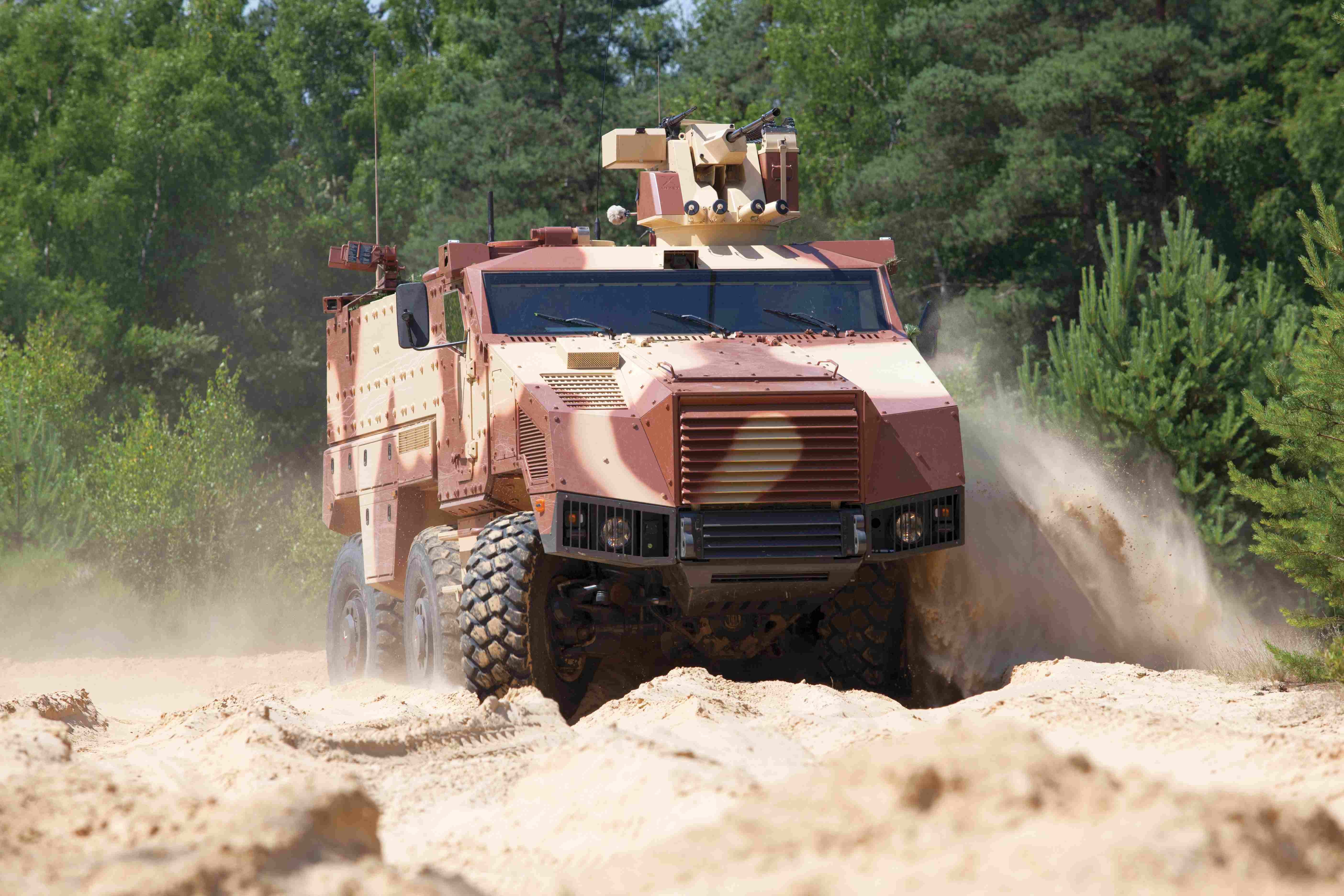 Armored Personnel Carrier
Remote Controlled Weapon Station
Ambulance Vehicle
Heavy Cargo Vehicle
Reconnaissance Vehicle

Engineering Vehicle
Special Operations Vehicle
Command Post Vehicle
Lead Convoy Vehicle
MINE RESISTANT AMBUSH PROTECTED (MRAP)
This vehicle features a V shaped design and provides crew protection as per STANAG 4569 Level 4a/4b.
TATRA MILITARY CHASSIS

The unique TATRA suspension solution provides unsurpassed driving performance, an independent air suspension system ensures comfortable and quick transportation of personnel in difficult terrain and also provides high protection and reliability of the main components and assemblies of the machine.
MOBILITY & EFFICIENCY
TATRA chassis provides the ability to quickly move over rough terrain, reducing the overall time consumption on long-distance maneuvers.
REMOTE CONTROLLED WEAPON STATION (RCWS)
The TITUS accomodates RCWS with an integrated 20 mm or 30 mm automatic cannon, 7.62 mm or 12.7 mm machine gun, integrated automatic grenade launcher (AGL) or integrated ATGM system. This configuration represents highly effective way of elimination of armoured vehicles or low-flying objects.
The TITUS is a universal platform for a wide range of special tasks and military operations in any environment and is designed to deal with all constraints of modern hybrid warfare. It combines the most advanced technologies and the unique TATRA chassis, successfully implemented all around the world. Chassis configuration 6x6 has excellent off-road qualities, maneuverability, high reliability and durability. The basic model of the TITUS tactic infantry vehicle is customizable and can be equipped with various types of weapons and equipment. TITUS multirole enables to perform various command tasks, combat support, anti-terrorist operations, suppression of resistance in a city, surveillance and reconnaissance, logistics, medical assistance, etc.
PARAMETERS
Weight
17 - 27 t
Chassis
TATRA FORCE T 815-7 6x6
Crew
3+10 / 2+12
DIMENSIONS
Length
7,720 mm
Width
2,550 mm
Height
2,730 mm
ENGINE
Engine
Cummins ISM
Output
373 kW (500 HP)
MOBILITY
Top speed
110 km/h
Range
700 km
Gradient
60°
Side slope
30°
Vertical obstacle
0.7 m
Trench crossing
1.2 m
PROTECTION
Ballistic protection
STANAG 4569 Level 2 up to 4
Anti mine protection
STANAG 4569 Level 2 up to 4a/4b
Explosion protection
up to 150 kg TNT
ARMAMENT
Automatic cannon
20 mm / 30 mm
Machine gun
7.62 mm / 12.7 mm
Anti-tank guided missile (ATGM)
optionally
Automatic grenade launcher (AGL)
30 mm / 40 mm
Smoke grenade launcher (SGL)
80 mm GALIX