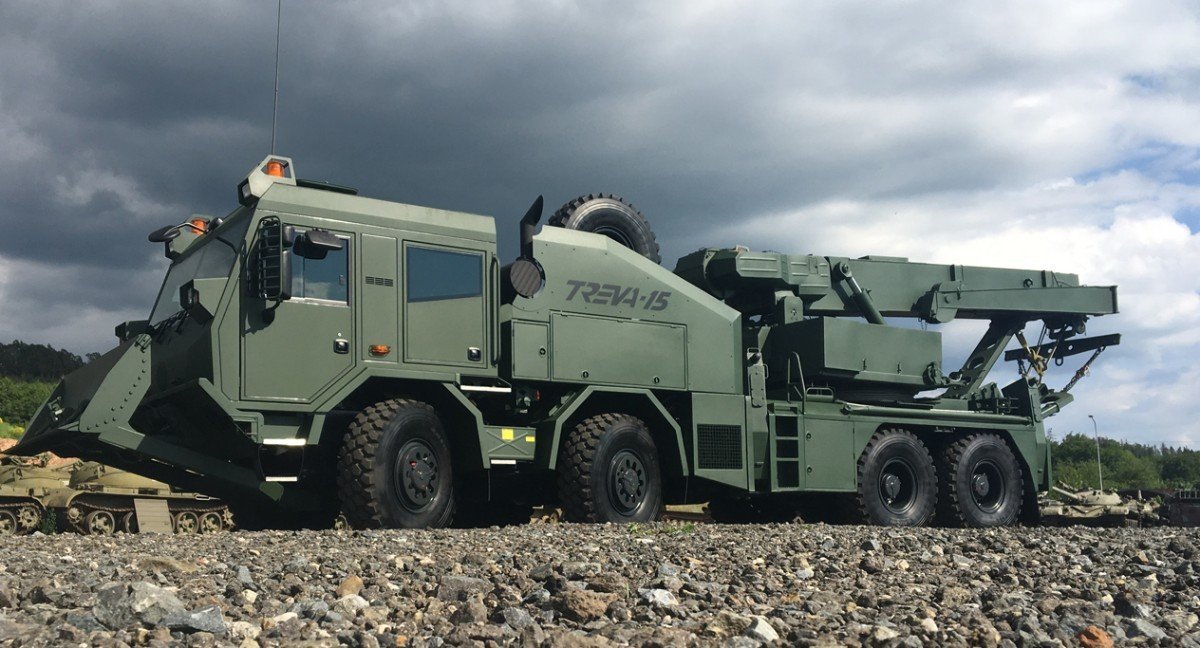 Recovery and support missions
Well-proven solution
High crossability in hard terrain

TATRA chassis
Armoured cabin option
Wide scale of accessories
EVACUATION CAPACITY
The TREVA-15 vehicle has higher capacity for evacuation of semi-hung vehicles and enables transportation of of 4 members of the evacuated vehicle's crew.
HIGH CROSSABILITY IN HARD TERRAIN
Unmatched solution of the TATRA chassis of the 8x8 military series.
VARIABILITY
The vehicle can be easily adapted to the customer's engineering means. Customer can select special equipment and additional accessories to be integrated in the vehicle. There is also possibility of optional armoured cabin or an automated gear-box.
WELL-PROVEN SOLUTION
Extensively used and well-proven system thanks to the direct link to te original AV-15.
TREVA-15 (Tactical Recovery and Evacuation Vehicle) is a new recovery vehicle based on the well-known and well-proven AV-15 recovery vehicle. The new vehicle is based on the TATRA FORCE T 815-7 8x8 chassis with a prolonged 4-door cabin designed for higher transportation capacity of up to 4 crew members of evacuated vehicle. The superstructure retains the simplicity of servicing and operation robustness as an original AV-15. The new TREVA-15 has increased evacuating capacities for the evacuation of vehicles, armoured personnel carriers and other semi-hung vehicles with a weight up to 30 tons. Hanging, tracking and binding appliances were developed and adapted. The new vehicle is equipped with an electric power unit with a welding machine and with a possibility of connection of electric tools which are included in its standard equipment. The vehicle is also equipped with workshop equipment, safety overload switch and protection against contact with a high-voltage line.
PARAMETERS

Weight
31.5 t
Crew
2 + 4

DIMENSIONS

Length
11,600 mm
Width
2,550 mm
Height
3,380 mm

ENGINE

Type
TATRA T3C-928.90
Output
300 kW at 1,800 rpm

MOBILITY

Top speed (off road)
80 km/h (25 km/h)
Cruising range
800 km
Fording depth
1.2 m (instant) / 1.5 m (with prep.)
Gradient
30°
Side slope
30°
Vertical obstacle
0.4 m
Trench crossing
2 m

SPECIFIC PARAMETERS

Crane capacity
15 t / 4 t (with extension)
Maximum crane outreach
7.7 m / 11.4 m (with extension)

Main winch traction force
14.7 t / 29.4 t (1 pulley) / 44.1 t (2 pulleys)
Main winch rope length
150 m
Auxiliary winch traction force
0.6 t
Auxiliary winch rope length
320 m
Evacuation capacity (semi-hung)
up to 30 t
Evacuation capacity (towing rod)
up to 40 t
Towed vehicle weight
65 t