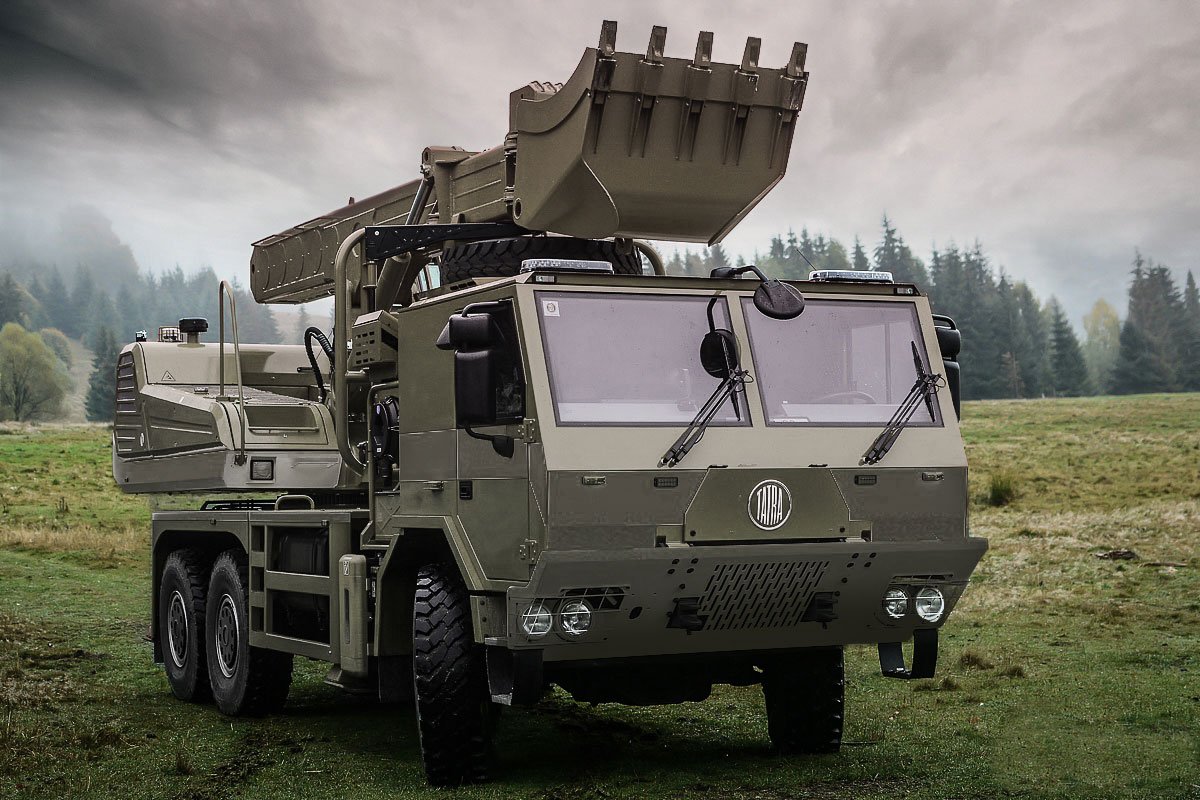 Well-proven solution
Multi-functional turning head
High crossability in hard terrain

TATRA chassis
Armoured cabin option
Wide scale of accessories
ARMOURED CABIN OPTION
The vehicle can be extended with an additional axle and equipeed with an armoured cabin or other upgrades per customer needs.
WIDE SCALE OF ACCESSORIES
The UDS can be used with a basic bucket, but also with specal buckets, boulder grapples, breakers, auger, etc.
WORKING RANGE
The unique construction of the telescopic boom allows horizontal reach of 14,6 m.
MICROTRAVEL CAPABILITY
The possibility of controlling the chassis from the excavator cab increases the work productivity and UDS operability in the workplace.
UDS-214 is the newest generation of a proven multi-functional worker for combat engineers and civilian emergency services. The universal machine is suited for terrain adjustments, digging, ground and demolition works, debris scattering, cleaning of rivers, ice floe disruption or improvised lifting of loads. It is very suitable also for civilian rescue operations. The vehicle can be prolonged by one axle, equipped with an armoured cabin and further hardened for specific military use.
PARAMETERS

Weight
25 t
Crew
3

DIMENSIONS

Length
9,450 mm
Width
2,550 mm
Height
3,980 mm

ENGINE

Type
diesel engine, variable type
Output
230 - 325 kW

MOBILITY

Top speed (on road)
100 km/h
Cruising range
500 km
Fording depth (instant)
1,200 mm
Gradient
31°

SPECIFIC PARAMETERS

Superstructure engine
93 - 104 kW
Digging speed
115 m3/h
Load capacity (retracted / out)
7,000 kg / 2,600 kg
Hydraulic system
REXROTH
Superstructure revolutions
8 rpm
Tool revolutions
20 rpm
Tool tilting range
145°
Tool rotation
bidirectional 360°
Horizontal range (retracted / out / with 4.5 m extension)
6.3 m / 10.5 m / 14.6 m
Depth reach (retracted / out / with 4.5 m extension)
2.9 m / 7.0 m / 11.2 m